Executive Coaching
Why Leaders need Coaching?
Time and again research has shown that Executives show improvement in leadership competencies and thus greater impact in performance through Coaching for the following reasons:
Self-Directed Learning – helps leaders find their own insights and ideas to resolve problems.
One-on-One conversation for improved rapport between the Coach and the Coachee
Solutions Focus – to overcome behavioral blocks
Positive Feedback – Authentic encouragement to move forward
Widen the thinking with an outside perspective
Coach acting as a sounding board in aiding decision-making
To help identify potential blind spots with the help of a Coach
To improve interpersonal skills
To create personal Accountability for development
Just-in-time Learning
Other situations when Executive Coaching can leverage performance:
Executives who are at the crossroads of their career
Temporary slide in Executive's performance
Handling Stress
Moving into new responsibilities or roles
Competition and Global Business Challenges
Overall Executive Coaching Process:
[responsive]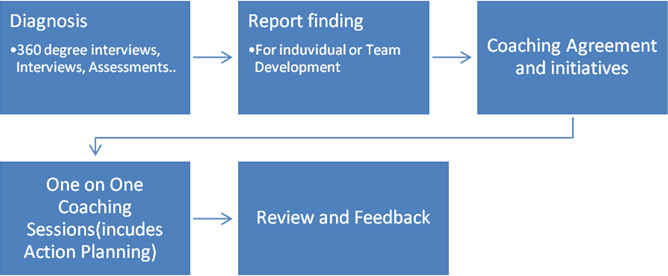 [/responsive]
Key Objectives:
At the end of the executive coaching program:
Executives will have clearly defined focus areas, be able to evolve strategies and deploy them
Executives will have enhanced leadership competencies to be better at the job.
Who should attend?
CEOs, Directors, key decision makers and Stakeholders of the organization.
Benefits of Executive Coaching
For the Executive:
Acquire leadership competencies for enhanced performance
Instilling greater accountability and emotional intelligence for healthy relationships
Fulfill their true potential  in a challenging business environment
Change in Behavior that is positive and sustainable
Augment the sense of Wellbeing by regaining vitality and purpose.
Better ability to think and act strategically
Enhanced career planning and development
Managing stress, change, conflict or crisis
Leverage existing strengths  to improve performance
Ongoing feedback/feedforward and support for personal and professional growth.
For the Organization:
Enhanced organizational performance
Improved Leadership skills for the senior executive
Greater team performance
Better ability to complete projects on time and within budget
Improved Customer Service and better Client relationships
Improved Staff Morale.
Enhance Leadership Pipeline.
Reduce turnover and retain high potential talent
Succession planning and development of key executives
Bottomline Profitability
Bottom-Line Results:
Research (by PWC and Association resource center) has shown that the mean Return on Investment in Coaching was 7 times the initial investment and over a quarter of Coaching clients reported a stunning ROI of 10 to 49 times the cost.
Downloads